Request Your Free Trial
Fill in the form to request your FREE audio transcription trial from Datalyst. Get 15 minutes of free transcription (minimum project size: 50 minutes) with no commitment. 100% privacy. New customers only.
Audio Transcription Services
Accurate, affordable transcription delivered by your deadline
Request Your Free Trial
Datalyst will turn your audio files into transcripts with industry-leading accuracy. Get 15 minutes of FREE transcription with no commitment.
Datalyst's professional transcription service has been designed with your organization's needs in mind. We're here to make your life as simple as possible, saving you time and money, so you can focus on what really matters – your bottom line. 
Outsourcing your transcription needs means that staff are free to concentrate on their core responsibilities without wasting their efforts on time consuming tasks.
We pride ourselves on providing a professional service with exceptional standards, all at a highly competitive price. The Datalyst Guarantee means that we promise to deliver the very best transcriptions, custom formatted to your needs, when you need them – or you don't pay a thing. No matter how big or small the job, if you don't get it by the agreed deadline, it's absolutely free!
Our flexible approach mean that you can pick and choose what you need for a customized offering that gives you the perfect balance of turnaround and features weighed against cost.
We can take original data in practically any format – video or audio – and convert it to the digital format(s) of your choice. Once we've created the digital file, we will then deliver it to you in the way that best suits your needs, including email, FTP or physical media.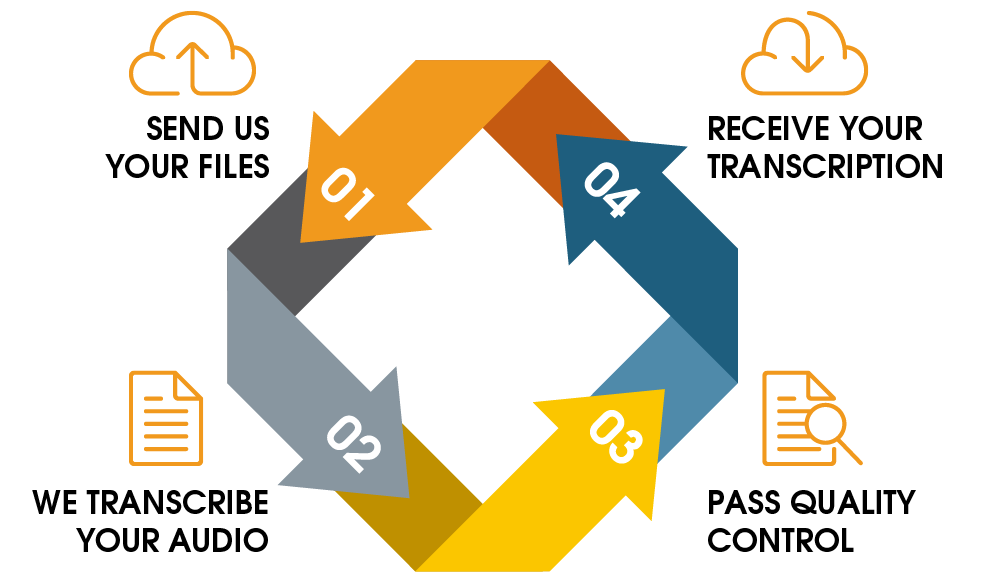 1. Send Us Your Files
Send us your audio/video files in the manner that suits you. You can upload them from your computer, use Dropbox or SendSpace, FTP or email – whatever works best!
2. We Transcribe Your Audio
Our team immediately starts working on your transcription. We're available 24/7 to return your files by our agreed deadline.
3. Pass Quality Control
Your transcriptions will pass several levels of quality control managed by industry specialists to ensure accuracy and verify spelling and correct terminology.
4. Receive Your Transcription
We send you your files in the requested format, e.g. Word, PDF, plain text, etc., using the mechanism you prefer, such as FTP, email, Dropbox, etc.
Industries & Specializations
Datalyst provides high quality transcription services to a broad range of industries, including:
Medical: Our specialist medical transcription team provide a fully HIPAA-compliant service, guaranteeing you full confidentiality combined with accuracy. We transcribe notes, records, meetings, lectures, conferences, reports, etc.
Corporations: Datalyst will give you the transcripts you need quickly and accurately. We can transcribe video, meetings, conferences, interviews, speeches, focus groups, etc.
Academic: Take advantage of our special academic pricing to get transcriptions of your research interviews, focus groups, dissertation, lectures, workshops, etc.
Legal: We work with attorneys, law firms, and legal services organizations to provide secure, confidential transcripts of video and film, interviews, speeches, meetings, conferences, and so on, all covered by an NDA should you require.
Entertainment: Our experts in entertainment transcriptions can cover everything from pre and post production texts, footage transcriptions, screenplays and scripts, documentaries, subtitles and closed captioning, reality TV, and more.
Insurance: Datalyst helps insurance carriers, underwriters, adjusters or claims agents digitize their files accurately and reliably.
Fast Turnaround
Our services are available 24/7. We meet your deadlines, or your transcripts are free. Guaranteed turnaround times, from same-day to 5 days.
Competitive Rates
We keep our costs as low as possible and standards high. There are no setup fees, contracts or minimums. And start with a FREE sample.
99%+ Accurate
Transform your audio to text with Datalyst's industry-leading accuracy: 99%+. Transcription you can rely on. Guaranteed.
Wide Range of Formats
We transcribe your film and video, interviews, podcasts, focus groups, lectures, conference calls, meetings, speeches, and more.
Easy-to-Use & Convenient
Share your audio securely via email, Dropbox, SendSpace, FTP, etc. We can deliver your transcription in any format (Word, PDF, plain text, etc.) and email any recipients you need.
Free Trial
Get a free, no obligation sample and see for yourself the quality of our service.
Schedule your no obligation free SAMPLE
Request your free 15 minute transcription trial today, and see how we can help you with your transcription needs. No matter how big or small, our transcribers are happy to help.
Contact us to learn more and to request your FREE trial. No commitment. 100% privacy.