Request Your Free Trial
Fill in the form to request your FREE transcription trial from Datalyst and receive 15 minutes of free audio transcription (minimum project size: 50 minutes). No commitment. 100% privacy. New customers only.
Top-Notch Transcription for the Insurance Industry
Let's be honest. Whether you're an Insurance Carrier, Underwriter, Adjuster or in Claims, you manage a great deal of recorded files and turning these files into accurate documents in-house, is tedious, time-consuming, and expensive. That's where Datalyst comes in. We specialize in timely, accurate, and compliant transcription for the insurance industry.
Whether you've outsourced transcription in the past or are considering this option, our services allow you to simplify your processes and focus on what matters most: serving your customers. Let our highly experienced team learn about your unique needs and deliver your transcriptions, on time and on budget.
Request a Free Trial
Get a FREE trial of our transcription services tailored to the insurance industry.
Get 15 minutes of FREE transcription with no commitment.
100% confidential.
Who We Serve
Datalyst caters to a variety of insurance professionals and organizations, such as:
Life and Health Insurance Companies
Property and Casualty Insurance Companies
Insurance Adjusters
Underwriters
Third-Party Administrators
Private Investigators
& Many More!
What We Transcribe
Our professionals can transcribe just about any document, including but not limited to:
Claim Statements
Workers' Compensation Reports
Field Notes
Summary Reports
Witness Statements
Claims Calls
Interviews
Fraud Investigation Reports
Case Management Reports
Investigation Notes
Meetings and Conversations
Depositions
Why Choose Datalyst
Here's why Datalyst is different than other transcription providers you may have come across in the past.
Fast Turnaround Times
You have deadlines to meet. That's why we guarantee same-day to 5-day turnaround times or your transcripts are free.
Affordable Rates
Not only do we offer a free sample, we keep our costs low without compromising quality. With us, you don't have to worry about contracts, minimums, and setup fees.
99%+ Accurate
Our team prides itself on our industry leading 99% accuracy. We know you depend on accurate transcriptions and promise nothing less.
Flexibility
We can transcribe just about any insurance-related document you have. Let us know what you need and we'll make it happen.
How it Works
Here's what you can expect from our tried and true process.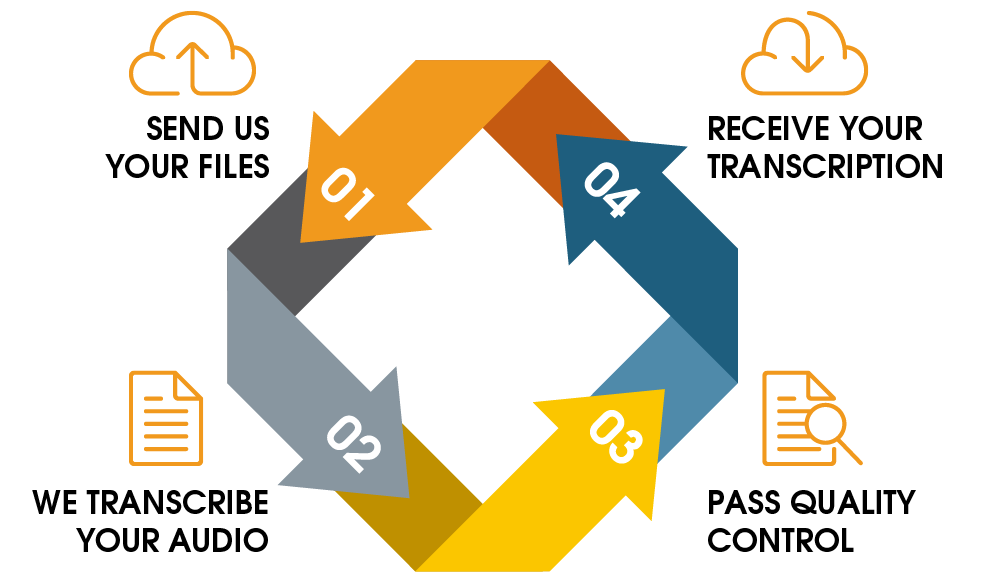 1. Send Us Your Files
Send us your audio or video files in any way you'd like. Dropbox or SendSpace, FTP or email – whatever works best!
2. We Transcribe Your Audio
Our team will start working on your transcription right away. We're available 24/7 to return your files by our agreed deadline.
3. Pass Quality Control
Your transcriptions will pass several levels of quality control to ensure the highest levels of accuracy.
4. Receive Your Transcription
We send you your files in the format you request – Word, PDF, plain text, etc. via the method you prefer, such as FTP, email, Dropbox, etc.
Schedule Your Free, No-Obligation Insurance Transcription Sample Today